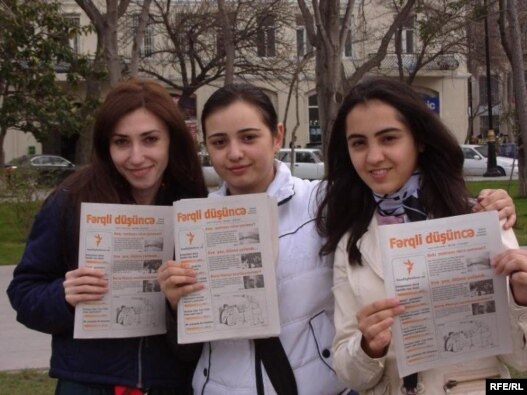 "A year ago people were worried that losing our FM radio frequency would be a big problem. But we're working around it," says Kenan Aliyev, the director of RFE/RL's Azerbaijani service Radio Azadliq. He waves a copy of "F?rqli dü?ünc?", a newspaper that's being distributed weekly in Azerbaijan's capital Baku and around the country. "Who says the newspaper is dead? It's not!"
In January 2009, The Azeri government banned all international broadcasters, including RFE/RL, VOA, and BBC, from the national airwaves. This posed a challenge to Kenan and his colleagues: "Our listeners were used to listen to us on FM radio. When the frequency was shut down, many of them lost touch with our station," he says. "So we had the idea to get our content published in a locally produced newspaper."
F?rqli dü?ünc?, which translates as "think differently" (Radio Azadliq's main slogan), is a joint project between Radio Azadliq, the local branch of the international NGO IREX, and a local publishing house. Since December last year, 10,000 copies of the paper are being distributed weekly in Baku and regionally.
"Our main goal is to get our content to the people. And in certain places, when you don't have access to free airwaves, you have to go back to the old traditional way. The paper allows us to work around the radio ban, and it's a great way to promote our short wave and satellite radio frequencies as well as our website."
The Internet is developing fast in Azerbaijan. Facebook recently announced that they have 140,000 members in the country. "10,000 of them are fans of Azadliq," says Kenan, "and our website had over 1,000,000 page views for the first time in January. This newspaper has helped us a great deal in making people aware of our online content."
Among the most popular pages on www.azadliq.org is "Korrupsiyametr" ("Corruption Meter"), a page dedicated to raising awareness about corruption and transparency issues (click here for a video of an Azeri traffic policeman seemingly taking a bribe).
Also popular is "Oxu Zali" ("The Reading Room"), a new page devoted to literature. "There is no real place for writers to discuss literature and to get published. We give them a platform for free expression," explains Kenan.
"At the end of the day, we'll always find ways to reach our listeners and readers. The most important thing is that our information is trusted. That's our biggest advantage."