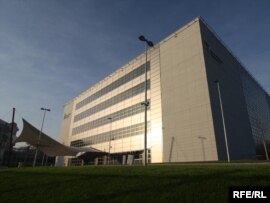 Then And Now: Free Media In Unfree Societies
Established at the beginning of the Cold War to transmit uncensored news and information to audiences behind the Iron Curtain, Radio Free Europe/Radio Liberty (RFE/RL) played a significant role in the collapse of communism and the rise of democracies in post-communist Europe.
Many East European and Russian leaders, including Vaclav Havel and Boris Yeltsin, have testified to the importance of RFE and RL broadcasts in helping end the Cold War. Former Estonian President Lennart Meri nominated RFE/RL for the Nobel Peace Prize in 1991.
Today, RFE/RL is one of the most comprehensive media organizations in the world, producing radio, Internet and television programs in countries where a free press is either banned by the government or not fully established. RFE/RL broadcasts in in 28 languages in 20 countries, including Afghanistan, Iran, Russia, and the Cental Asian Republics (click here for a map).
Established After the Second World War
Radio Free Europe (RFE) and Radio Liberty (RL), originally separate organizations, were conceived by George F. Kennan (United States Department of State) and Frank G. Wisner (Office of Policy Coordination, later the United States Central Intelligence Agency) to utilize the talents of post-World War II Soviet and East European émigrés in support of American foreign policy.
RFE was founded in 1950 and initially broadcast to Bulgaria, Czechoslovakia, Hungary, Poland and Romania. Three years later, RL began broadcasting to the Soviet Union in Russian and 15 other national languages. RFE/RL began broadcasts to Estonia, Latvia, and Lithuania in 1976.
Initially, both RFE and RL were funded principally by the U.S. Congress through the Central Intelligence Agency (CIA), but RFE also received supplemental private donations.
In 1971, all CIA involvement ended and thereafter RFE and RL were funded by Congressional appropriation through the Board for International Broadcasting (BIB) and after 1995 the Broadcasting Board of Governors (BBG). The two corporations were merged into RFE/RL, Inc. in 1976.
Reaching New Audiences
At the same time, RFE/RL launched several new broadcast services in the past decade and a half. Responding to the violent breakup of Yugoslavia, RFE/RL began broadcasting in Serbian, Croatian and Bosnian to the Yugoslav successor states in early 1994, in Albanian to Kosovo in 1999 and in Macedonian and Albanian to Macedonia in 2001.
Reflecting American attention to the greater Middle East, RFE/RL began broadcasting in Arabic to Iraq and in Persian to Iran in 1998; after 2002 the broadcasts to Iran continued as Radio Farda.
In 2002, RFE/RL resumed broadcasts in Dari and Pashto to Afghanistan that had begun in the 1980s during the Soviet occupation. Also in 2002, Radio Liberty reinstated braodcasts in Avar, Chechen and Circassian to the North Caucasus (three of the North Caucasus broadcast languages during the 1950s and 1960s).